[ale_divider style="thin" text="notext"] Divider Text [/ale_divider]
This article appeared on i-spark.com. To read the original post Click Here.
[ale_divider style="thin" text="notext"] Divider Text [/ale_divider]
The launch of our TELUS L-SPARK MedTech Accelerator was a timely and necessary step towards the future of healthcare.
There are countless sleep deprived founders out there hard at work inspiring and creating hope for the future of healthcare. They are making the extraordinary happen, and we want to help.
This program was created to support companies in developing innovative connected medical devices and services aligned with emerging global IoT security standards.
An evolution of our  Secure IoT Accelerator launched in 2019, this program aims to connect these companies to technical mentors from TELUS, BlackBerry, Solace and CIRA who will provide technical support to help integrate their medical devices + software solutions.
We are beyond excited to have officially launched this program and extremely hopeful for the future that these bright minds are working to create.
Meet the companies that make up our first cohort of the TELUS L-SPARK MedTech Accelerator Program: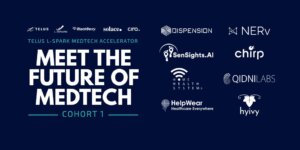 Chirp has created an ambient sensing device to remotely monitor the well-being of aging adults.
Dispension is pioneering secure automated IoT kiosks equipped with advanced biometrics and virtual care capabilities for restricted product distribution.
HelpWear has developed the HeartWatch, a continuous, wearable heart monitoring system worn on a patient's bicep for prevention, detection and better treatment of heart-related illness.
Home Health Systems has created the SafetyPatch, a 24/7 real time remote vital signs monitoring solution for elder care, inpatient and outpatient monitoring, and athlete safety and performance.
Hyivy Health has created a pelvic rehabilitation device with trackable data for women who have pelvic cancers and diseases to help alleviate pelvic health symptoms after a devastating diagnosis, treatment or surgery.
LocateMotion is a health intelligence startup, with a device-agnostic, AI-powered platform, SenSights.AI, that enables real-time telehealth services, predictive wellness insights, and innovative care models for seniorcare.
NERv's diagnostic system employs proprietary sensing technology to detect post-operative complications at their onset, initially focusing on detecting gastrointestinal leaks that can arise after general surgeries.
Qidni Labs, Inc. is developing the world's smallest blood purification system that would provide home-based dialysis for patients with kidney failure and provide convenient access to treatment for the millions of patients who currently do not have access to dialysis.
---
If you'd like to be put in contact with any of these founders or companies, please reach out to L-SPARK's Community + Events Manager, Natasha, at [email protected]. We'd love to introduce you!