An MEV Innovation Centre Success Story: Ecosystem Informatics Inc.
Original Article, MEV Innovation Centre, Oct. 21, 2022
The MEV Innovation Centre welcomes newest member Ecosystem Informatics Inc., an advancing Milton Green Innovation business.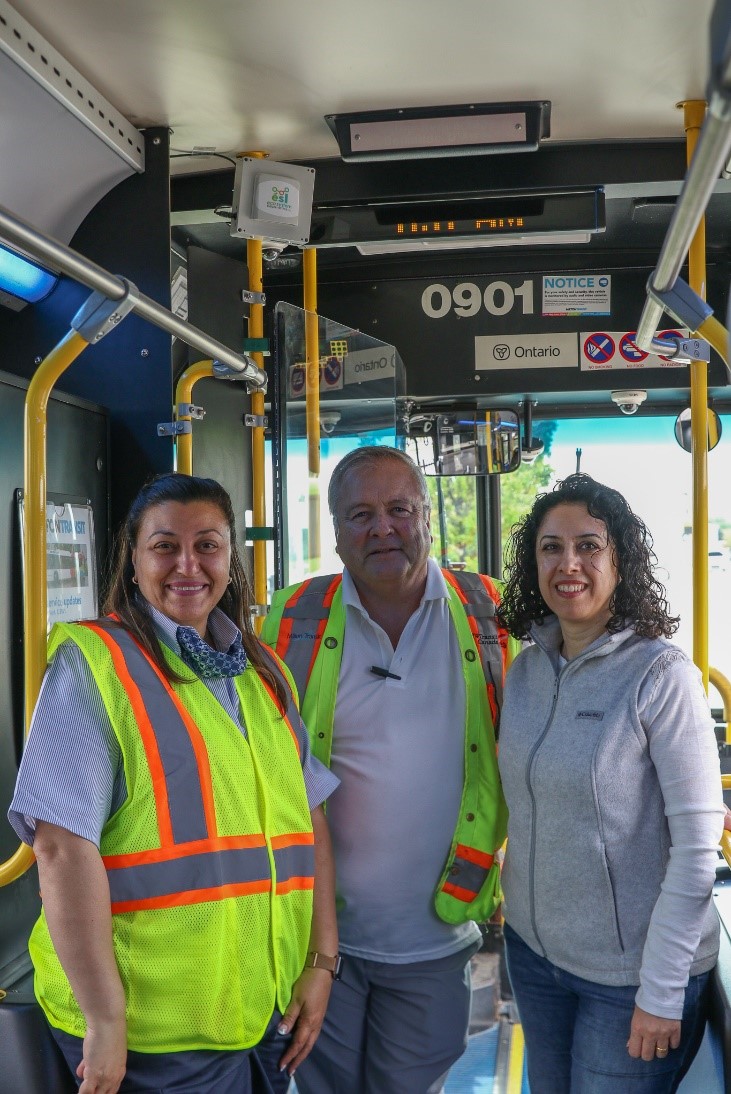 Ecosystem Informatics Inc.
Ecosystem Informatics Inc. (ESI) is a Milton-based green innovation company, led by CEO and CTO Shirook Ali, specializing in air quality management solutions. Their technology helps provide clarity and improve the understanding of environmental conditions with insights around air pollution at a street by street level.
Milton businesses are positioned for success
Choosing Milton as ESI's home was an easy decision for Ali due the Town's strategic location within the Innovation Corridor, with quick access to major transportation networks, surrounding STEM-educated talent, and thriving small-business community with seventy percent of Milton-based businesses having fewer than five employees.
Connecting with the Town of Milton
Milton Economic Development Division connects organizations and entrepreneurs with key services, resources and the support needed to thrive. Ali noted the support provided to such businesses by Milton Economic Development staff.
"The support that we got from the Town was wonderful that we didn't see elsewhere," said Ali. "Being a small business just starting up in terms of commercializing and scaling, we can use any support that we can get, which we found here in Milton."
Milton Economic Development first got connected to ESI in 2020. Staff immediately saw the connection between ESI's innovative technology and a key pilot project through Milton Transit. ESI's innovation technology provided foundational data to the Milton Transit team as they investigate the potential future impacts of electrifying the Town's transportation fleet. Milton continues to look for ways to improve sustainable transportation – a key priority of the Town.
"Milton staff are very forward thinking people and they want to put Milton on the map when it comes to digitization and taking action to improve the quality of life for its citizens," said Ali.
Working with the Town served as a catalyst for future projects and investments for ESI. According to Ali, working with the Town provided her team the confidence and credibility to work on bigger projects within Ontario and Canada, and also helped them to expand internationally to European and South Asian markets.
ESI becomes MEV Innovation Centre's newest member
ESI is one of the newest members welcomed at the MEV Innovation Centre. The MEV Innovation Centre is dedicated to creating a place for innovation through collaboration of entrepreneurs, startups and small businesses. The MEV Innovation Centre provides resources and services, entrepreneurial support and strategic connections to give entrepreneurs the tools they need to effectively start, build and scale their businesses.
Being a part of a community of entrepreneurs is very important to Ali. Which made the MEV Innovation Centre the perfect space for ESI. Their team has an opportunity to work alongside other inspiring future-focused businesses while also connecting with Haltech, Halton Region Small Business Centre, Silicon Halton, Wilfrid Laurier University, and Conestoga College who are partners of the MEV Innovation Centre. Ali describes her onboarding experience at the MEV Innovation Centre as 'smooth, efficient, and very straight-forward'.
"Although we've been in the space for just over a month, when you look at our space it feels like we've been there for years because everybody loves the idea of working together and being together," said Ali.
A recipient of $30,000 i.d.e.a Fund
As an emerging business during the economic pressures of COVID-19, ESI has impressively grown 10 times in size and has raised over $2 Million to support investments in R&D and commercialization. Most recently, ESI was one of 120 southern Ontario businesses to receive $30,000 in funding to support their green reliance initiatives through the Haltech lead i.d.e.a. Fund. Ali intends on using this funding to help commercialize in strong steps with investment in hardware that can be deployed in a variety of environments, development of marketing materials, and attendance in international events such as GITEX Global, one of the world's most influential events for thought leaders within the technology industry, hosted in Dubai.
Leadership in Green Innovation Sector
Being an entrepreneur, innovator, and leader within the green innovation sector can be challenging at times noted by Ali, but when asked what helps her succeed Ali commented:
"There is few people, I probably can count them on my hand, that said don't listen, just go forward, you're doing great, and you will succeed," said Ali. "You need those small kind of indicators every now and then."
Ali acknowledges that the support in the 'background' is what truly inspires and motivates her to push forward and break down boundaries.
"That's one of the beautiful things about working with the Town of Milton, they saw the potential", Ali added.
Ali encourages the future generation of leaders to "be yourself", "listen to everyone's advice", and even if it seems impossible, "start saying no", when things do not serve you. These are important messages that can resonate for all entrepreneurs.
A story of resiliency and innovation
Ecosystem Informatics Inc. tells the story of not only resilience but innovation within the economic pressures of COVID-19. Ali's success represents strong leadership and her story is an inspiration for future entrepreneurs. This small business is one to keep your eye on as they continue to push innovative boundaries here in Milton and beyond.
For more information about MEV Innovation Centre, click here.