HOME |  SERVICES  |  NEWS  |  CONTACT
Our calendar is home to Innovation Factory workshops and networking events as well as events from the community which help support our local entrepreneurs and businesses. If you have an event that may be a fit, please submit it and we will review it within five business days.
| | | |
| --- | --- | --- |
| | | Innovation Factory Events |
| | | Partner Events |
| | | Community Events |
| | | CITM & Industry Events |
| | | Women Entrepreneurship Events |
Strategy is Everything: IP Strategy Considerations for Healthtech Companies (Part 1)
February 4 @ 1:00 pm

-

3:00 pm
REGISTER HERE
The Forge presents a two-part, interactive workshop featuring U.S.-based Knobbe Martens and Ontario-based, Epineuron.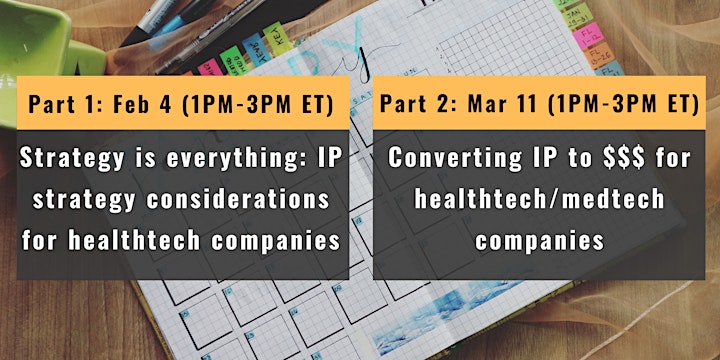 February 4th  (Part 2 is March 11)
Part 1: Strategy is everything: IP strategy considerations for healthtech/medtech companies seeking investment
While there have been many workshops the deal with intellectual property in the past, this workshop takes a different approach; the goal for most healthtech/medtech companies is to get investment. A poorly designed intellectual property strategy, weak patent process or inadequate legal advice can severely handicap a company in search of investment – our goal is to help you avoid this undesirable outcome. Part one of a two part, interactive workshop series featuring U.S.-based Knobbe Martens and Ontario-based, Epineuron.
In part one of this two-part workshop, we give a quick overview of the legal instruments that can be used by healthtech/medtech companies looking to protect their intellectual property, then we dive into IP strategy. As we discuss strategy we will use Ontario-based, Epineuron as a case-study. Epineuron recently raised a seed round – founders Mike and Sergio cannot emphasize the importance of a strong IP strategy when it comes to raising money, enough.
"Our comprehensive IP strategy was a driving factor that ultimately enabled us to secure investment." – Mike Willand, CTO, Epineuron
NOTE: This workshop is scheduled for two hours. The first hour will cover the topics discussed below; the final hour will be for questions. Lawyers from Knobbe Martens and founders from Epineuron will make themselves available for companies interested in speaking with them. We will use breakout rooms for this part.
Topics covered:
Overview of Intellectual property and IP strategy
– Different types of IP – when to use what
– The process involved in patenting (especially health/med-tech)
– Preparing yourself to work with an IP lawyer
– IP strategy considerations for companies seeking investment
Epineuron's IP journey
– What to look for in an intellectual property service provider
March 11th (1PM-3PM ET)
Part 2 of 2: Converting IP to $$$ for healthtech/medtech companies
Sign up and to read more about the event here.