2unify Dares to Enter the Den
This article appeared on theforge.mcmaster.ca. To read the original post Click Here.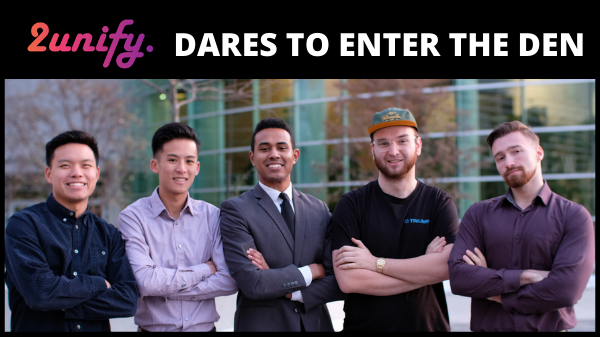 The Forge client 2unify has been selected to pitch on CBC's Dragon's Den Season 15. The hit television show offers audiences a front-row view as the country's top business moguls wheel and deal with entrepreneurs who dare to enter the Den. "We are huge fans of the show and are beyond excited to pitch on Dragon's Den. A special thanks to Innovation Factory and McMaster Innovation Park for organizing the auditions in Hamilton" said Michael Jobity, co-founder of 2unify. "Hamilton has shown us overwhelming support. Joining The Forge over the summer has given us a great opportunity to grow our startup and prepare for this pitch and questions we may face in the Den. We can't wait to meet the Dragons!" Read more.
2unify impressed numerous judges in pitch competitions:
<DIGICON> MENA Startup Pitch Battle in Dubai, UAE, 2unify is selected to pitch (Pitch competition is upcoming on September 16-17, 2020)
The Forge Student Startup Competition, Finalist (March 30, 2020) Awarded $5K and a spot in the Summer Startup Academy to scale up their business with the support of expert mentors and service providers.
Idea2Life Pitch Competition, hosted by the First Institute of Canadian Inventors (FICI) McMaster Chapter, First Place Winner (March 4, 2020): Awarded funding toward their prototype and $5K trip to Seoul, South Korea to compete in JEC Korea 2020 – The Leading Composites Event in Asia Pacific (November 11-13, 2020).
2020 Ontario Engineering Competition, hosted by the University of Guelph (January 17-19, 2020): Awarded the Innovative Design Award.
2019 McMaster Engineering Competition, Won First Place for Innovative Design (November 2-3, 2019)